A
nnette Jane Thompson Cobbe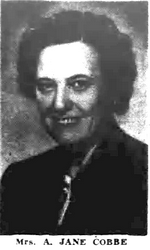 Home: Lakewood, NY.
Occupation: Businesswoman, Writer
Born: 24 April, 1893, Pa.
Died: Feb 1992 (US Consulate) Guadalajara, Mexico.
Spouse: Archie M. Cobbe
Marriage Date: 28 Dec 1936 Waterloo, Iowa.
Father: Alfred Miles Thompson b. 4 March, 1854. Butler Co. Pa. - d. 29 July, 1925. St. Paul, Minn.
Mother: Sarah E. Marlin Thompson b. 1 April, 1858. Beaver Co. Pa. - d. 3 Nov. 1935 in Waterloo, Iowa.
C
hildren:
R
eferences:
Many thanks to Lisa Wooldridge for sharing her Information on the Thompson family.
1900 US Census.
Immediate Family Knowledge.
SSI Death Index.
6 April, 1946 Dunkirk Observer ficticious name record, A. M. Cobbe Brick and Tile Co.
N
otes:
Annette Jane (Aunt Jane) ran the brick company (A. M. Cobbe Brick and Tile) after her husband's death until 1955. She sold it and moved to Mexico. She wrote a book about moving to Mexico. "Why, How and Where to Live in Mexico." ISBN: 0805915346. Published Jan 1, 1971.
---