C
harlotte Louise Beaver Cobbe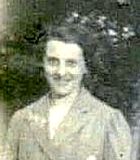 Home: Erie, Pa.
Occupation: Homemaker
Born: Aug. 14, 1888 Shenango, Pa.
Died: July 25, 1932 Shenango, Pa.
Spouse: Arch M. Cobbe.
Marriage Date: 21 Jul 1917 Jefferson, OH.
Father: Valentine Beaver b. 10 May 1835 East Salem, Mercer, Pa. d. 28 Jan 1918 Shenango, Mercer, Pa.
Mother: Katherine Mathay b. 3 Oct 1845 Oberstedien, Germany d. 2 Feb 1918 Mercer, Pa.
Children:
References:
Jamestown Post Journal Obituary.
Cleveland Department of Health, Death records, 1840-1908., Filmed by the Genealogical Society of Utah, 1994.
The Eich Family Genealogy on Rootsweb
Notes:
Charlotte died at the home of her parents.
---