M
ary Ann Eakin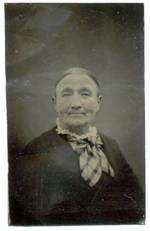 Home: Washington, PA.
Occupation: Homemaker
Born: 14 Jun 1814 Ireland
Died: 27 Feb, 1899 Corry, PA.
Spouse: William Finley Lafferty
Marriage Date:
C
hildren:
Sarah Margaret Lafferty
Jane Eliza Lafferty
James David Lafferty
Nancy Victoria Lafferty
R
eferences:
Will probate of Robert Eakin
N
otes:
The picture is from a tintype, the property of Laura Roe.
---