M
atilda Ann Taylor Montgomery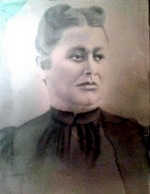 Home: Metz, Marion County, Wv.
Occupation: Homemaker.
Born: 28 July 1847 Pa.
Died: 14 Dec. 1915.
Spouse: T. J. Montgomery
Marriage Date: 23 Dec 1866
Father: James Taylor abt. 1808 Pa.
Mother: Mary Hemphill Taylor abt. 1811 Pa.
C
hildren:
Winfield T. Montgomery b. 20 December, 1868
Herman L. Montgomery b.12 November, 1871
Fredric L. Montgomery b.31 March, 1874
Cora B. Montgomery b. 1 August, 1876

Francis H. Montgomery b. 4 July, 1879
Jessie L. Montgomery 23 June, 1886
John James. Montgomery b. 26 September, 1889
Thomas Earle Montgomery b. 15 May, 1892
R
eferences:
1900 & 1910 US Census.
18 Jan 1916 Oil City Derrick Obituary for Matilda Montgomery.
Many thanks to the extensive research of Deb Reed.
N
otes:
Her middle name has so far only been found in the death records of her son, Herman, --- It appears that Matilda's brother Abraham married Tj's sister Louisa Montgomery.
---