M
arianne Pearl Cobbe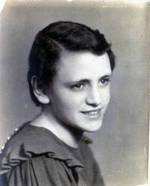 Home: Arkansas
Occupation: Homemaker
Born: 4 Jun 1917 Jamestown, Chautauqua, NY.
Died: 7 Sep 1995 Ashdown, Little River, Arkansas
Spouse: (1) Paul Bernard Patchell (2) Hubert Neal Sneed (3) Henry John Jackson Carter. b.19 February, 1902, Panama, Ok. d. 1 August 1969, Kansas City, Ks.
Marriage Date: (1) December 31, 1937 Jamestown, Ny. (2) 18 Apr 1948
Father: Robert Eakin Cobbe
Mother: Lillian Pearl Burrows
C
hildren:
Living daughter
Living son
Living son
Living daughter
Living son
R
eferences:
Birth and Death Certificates
Immediate Family Knowledge
Birthday Record Book belonging to Sara Bell Cobbe
Fort Leavenworth, Ks. Cemetery records
N
otes:
Marianne is buried in Ashdown Cemetery, Arkansas. Henry John Carter was full blood Cherokee, and is buried on the Ft. Leavenworth, Ks. Military Post.
---