R
ichard Clayton Cobbe Sr.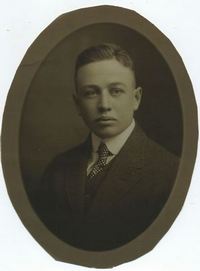 Click on the picture to see the gallery for this person.
Home: Mentor, Ohio.
Occupation: Civil Engineer for the New York Central RR.
Born: 14 January, 1891. Corry, Pa. Later moved to Jamestown, NY.
Died: 6 January, 1983. Willoughby, Ohio.
Spouse: Florence Ada Saxton b. 30 November, 1891. Jamestown, Ny. d. 29 October, 1961.
Marriage Date: 29 May, 1916
Father: Richard Cameron Cobbe
Mother: Mary Ann Lafferty
C
hildren:
Ruth Elizabeth Cobbe. Cleveland, Ohio. 14 Nov, 1917
Richard Clayton Cobbe Jr. b. Watertown, NY. 18 April, 1920
Dorothy Jean Cobbe. 27 Sept, 1927
Margaret Ann Cobbe. Cleveland, Ohio 28 Dec, 1930
R
eferences:
Cobbe-Roe Ancestry file from Laura Cobbe-Roe
Immediate Family (Granddaughter).
Birthday Record Book belonging to Sara Bell Cobbe
N
otes:
Richard worked his way through college.
---