T
homas John (TJ) Montgomery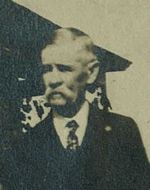 Home: Metz, Marion County, Wv.
Occupation: Oil well worker.
Born: December 1844 Sandy Lake, Mercer, Pa.
Died: Feb 28, 1935 Tulsa, Ok.
Spouse: Matilda Taylor b. 28 July 1847 d. 14 Dec 1915
Marriage Date: 23 Dec 1866 Mercer Co. Pa.
Father: William B. Montgomery b. 25 April, 1823 Mercer Co., Pa. d. 18 February, 1890 Lisbon, Venango Co., PA.
Mother: Elizabeth Leisure/Leasure b. 1825 d. 6 June, 1876 Buried Mount Irwin cemetery, Barkleyville, Venango Co. PA.
C
hildren:
Winfield T. Montgomery b. 20 December, 1868
Herman L. Montgomery b.12 November, 1871
Fredric L. Montgomery b.31 March, 1874
Cora B. Montgomery b. 1 August, 1876

Francis H. Montgomery b. 4 July, 1879
Jessie L. Montgomery 23 June, 1886
John James. Montgomery b. 26 September, 1889
Thomas Earle Montgomery b. 15 May, 1892
R
eferences:
1900 & 1910 US Census.
18 Jan 1916 Oil City Derrick Obituary for Matilda Montgomery.
Many thanks to the extensive research of Deb Reed.
Civil War notes from a letter by his daughter Laura Montgomery, dated 5 Jan. 1945.
Death Certificate from Oklahoma City. OK.
Pension Certificate.
N
otes:
"T J" served with Co. "K" 14th PA Calvary in the Civil War. He was wounded in the shoulder and formally discharged in 1865. He worked in the oil fields in WV. and PA.
---