L
ena May Albro Kerner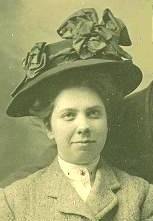 Home: Michigan, Pa. and New York.
Occupation: Housewife.
Born: April 1886 in Ohio.
Died: 25 March, 1925.
Spouse: Joseph John Kerner.
Marriage Date: 27 April 1909. Warren, Pa.
Father: Oscar Barney Albro
Mother: Cleora May Stone
C
hildren:
J. Frank Kerner Jr. b. abt. May 1910 in Warren, Pa. d. 6 June, 1936 in Petoskey, Michigan.
R
eferences:
1910 census in Warren, Pa.
1920 census in Michigan
1911 Warren Pa. Evening Mirror Newspaper Article.
Greenwood Cemetery Records
N
otes:
From the 1911 newspaper article we find that: On June 8, 1911, Lena and her infant son, Frank, were boarding at Wm. Pedlow's in Warren, Pa. Lena's parents were still together and living in Gerry, NY. Her brother, Walter, was also living in Gerry. Lena's husband, Joseph John Kerner's parents were living in Petoskey, Michigan. Lena is buried in Greenwood Cemetery, Petoskey, Michigan.
---