C
leora Mae Stone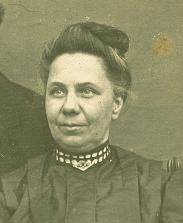 Home: Warren, Warren County, PA.
Occupation: Homemaker.
Born: 22 Nov, 1865 in OH.
Died: Feb. 1922, Cassadaga, NY.
Spouse: (1) Oscar Barney Albro. (2) Ezra Johnson
Marriage Date: (1)24 October, 1883, Ashtabula, OH. (2)10 April, 1912, S. Stockton, Gerry. NY
Father: William Evan Stone.
Mother: Esther Jerusha Bronson.
C
hildren:
R
eferences:
1900 Warren County Pa. census.
Index to Marriage Records for Ashtabula County, 1812-1886 vol. 1, page 328.
Methodist Episcopal Church Records Sinclairville, Chautauqua County, NY
Pine Hill Cemetery Records.
N
otes:
Cleora was said to be part Indian, although no one knows for sure what kind. Possibly Canadian Mohawk? We have found no evidence of this in our research. On her burial record she is put down as white. We were told they might have done that (if she was in fact Indian) so she could be buried where she is, Pine Hill Cemetery in Falconer, New York. Cause of death was Pulmonary Tuberculosis. Some records refer to her as "Clarissa".
---