O
liver Alfred Albro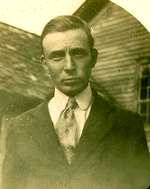 Home: Warren, Warren County, PA.
Occupation: Woodworker/Laborer
Born: Nov 4, 1884, Ohio/Pa.?? WW I Draft Registration says 1882.
Died: 15 July 1963
Spouse: None
Father: Oscar Barney Albro
Mother: Cleora May Stone
C
hildren:
R
eferences:
1900 census Warren County, PA.
1920 census Jamestown, NY.
1930 census Gowanda State Hospital, NY.
Gowanda State Hospital death/ burial records.
WW I Draft Registration, Chautauqua County, NY dated Sept 12, 1918.
N
otes:
Olivers WW I Draft registration says he had red hair. This hasn't been verified by family members. He is buried in the "newer" State Cemetery on Route 62 next to Gowanda Ford, in the Protestant Section, Grave 665.
---